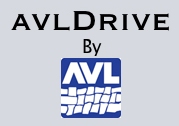 AVLDrive
AVLDrive is loom control software to drive your AVL loom. In two clicks, you can be weaving. It couldn't be easier... which is exactly how it should be!
Why do you want AVLDrive?  
The first time you use it, you will wonder why you have been struggling all these years. It's almost like AVLDrive knows your loom. Here are some of AVLDrive's remarkable capabilities:
Extremely intuitive interface
AVLDrive finds your loom
Descriptive display showing both the coming pattern and the woven history
Editable tabby
Editable range 
Reverse, Previous, Go To and incremental skipping in forward and reverse
Resettable counter
It is free (and who doesn't like free?)
AVLDrive is for loom control only.  You need to either create WIF files via a design program or source them from handweaving.net.
AVLDrive works with
Any Compu-Dobby(R) IV equipped loom
Little Weaver 
Mac OS 10.7 (Lion)
Windows XP, Vista, 7 and 8
iPad (for Little Weaver only)
USB port
Ethernet (through local router)
WIF weaving files
WiFi (requires hardware upgrade for some looms)
We are currently working on adding a simple mechanism to allow weaving design software to launch AVLDrive.
If you would like to download and use AVL Software Programs, you must agree to
Not redistribute them
Not reverse engineer them
Use them and give us feedback
AVLAdmin
Use AVLAdmin to set up your WiFi-compatible loom (contact AVL to help you determine if your loom is WiFi compatible) on your WiFi network. AVLAdmin's simple, yet effective interface allows you to:
Find your WiFi network
Assign the passphrase for the loom
Retrieve the IP (Internet Protocol) address
Name your loom for easy connection where more than one loom is connected to the WiFi network
AVLUpdate
AVLUpdate allows you to 'remote update' the firmware in your Little Weaver without sending it back to the factory. This is a major step forward in usability as it allows AVL to continue adding features and improving your weaving equipment.
Download AVL Software
Click here to be taken to the form you need to fill out first before accessing the software.
Have you already downloaded the software and are just looking for the instructions? Click Here to view our Little Weaver resource page. (Contains links to AVL Software Manuals/Instructions)