Assembly
To begin, locate the spoke to the right of the spoke with the Stationary Raddle/Cord Catch Assembly. Mount the Crossmaker on that spoke about 3" to 4" below the dowel with pins.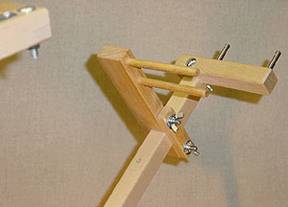 Use
For each new end:
1.) Guide the thread through the Crossmaker
2.) Then proceed to wind the rest of the turns for a full length while bypassing the Crossmaker.
3.) After each length, put the thread through the raddle and under the cord catch.
4.) Then through the Crossmaker again, but in the opposite pattern from the first time.
When the section is completed: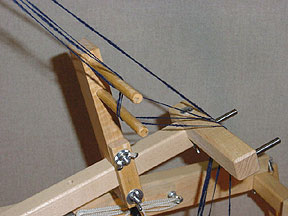 1.) Secure the cross by inserting a piece of yarn in the cross, along both pegs, then tie it in a bow.
2.) Before you completely wind the length onto the beam, slide the cross off of the Crossmaker and lift it over the raddle.
3.) Secure the end of the length to the warp with tape or tie it to a peg.
Buy Here or Contact Us for more information.
Warping Wheel Use Video (Includes Crossmaker Segment)
You must install Adobe Flash to view this content.
Warping Wheel with Cross Maker Video (Older Version)
You must install Adobe Flash to view this content.