AVL Studio Dobby Loom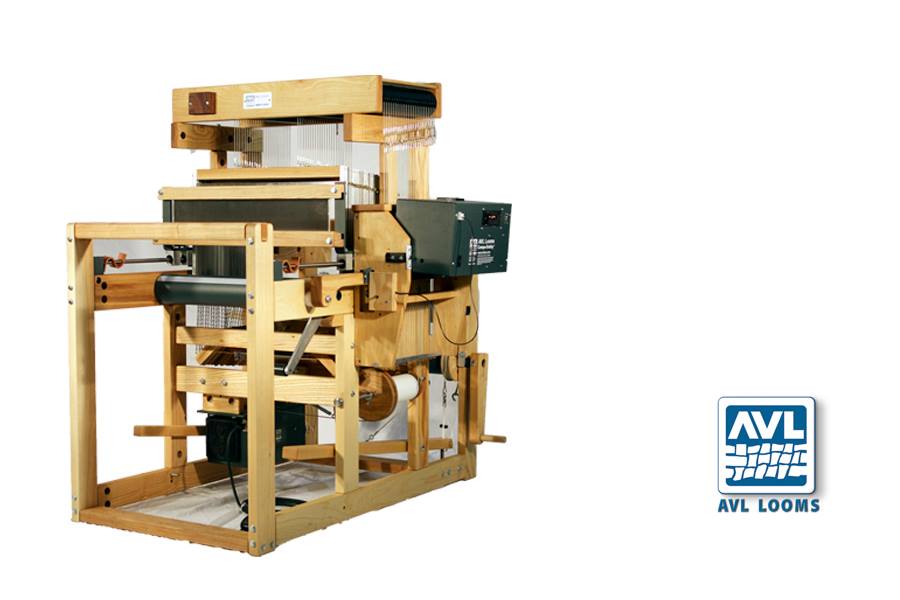 In early 1998, we introduced a new loom that offers an unprecedented combination of weaving power and compact size. The AVL Studio Dobby Loom.
Designed from the ground up for use in universities and design studios, the Studio Dobby Loom (SDL) provides the punch of our Compu-Dobby® system in an extremely small and economical package. Teachers, designers, sample weavers - anyone with limited space but high expectations - will delight in this loom.
Available with either 16 or 24 harnesses, its footprint is a mere 30" x 44" (112 cm x 76 cm), and it stands a diminutive 48" (122 cm). Yet, weaving width on the SDL is a full 20" (50 cm), perfect for sampling and weaving instruction. At this scale, a bank of these looms can be easily accommodated in a class room or design studio. A single loom will fit nicely in the corner of a small apartment.
High Performance in a Small Package
Best of all, the AVL Studio Loom is SOLID. We've framed it in Select Northern Ash and, at the risk of over-doing things, have dimensioned our wood parts with extra thickness - well beyond the norm. Given its low center of gravity, this may be the most solidly built handloom ever made commercially available.
Why would we go to such effort with such a small loom? Because you, our customers, asked us. Over the years, we've had plenty of requests from instructors, studio designers, and students who needed small, low-maintenance, economical, computer capable looms. Alright - no frills functionality is now available from AVL.
Remembering Our Past
There's something else you should understand about the AVL Studio Dobby Loom.
We built it with an eye on our heritage as well.
Because for all its robustness, solidity, and heft, we wanted the AVL Studio Loom to be one, simple thing.
An AVL loom.
Our history of well engineered looms, inspired by our founder Jim Ahrens, is well represented in the Studio Loom. Yes, the SDL is compact, but we've retained many essential features that are so distinctively AVL. Like cam-assisted treadling, so as on all AVL's the more you push down on the treadle, the easier it gets. And it uses the standard AVL dobby head, so you can be assured of years of trouble-free performance. Plus, we went to the extra expense of lathe-turning the warp beams so there will be consistent warp tension from the first pick to the last.
And there's more: full-sized harnesses and heddles; a foot-actuated warp tension brake (or optional auto warp tensioning); foundry-cast fittings -- no little plastic gears here! -- and a full-sized ratchet and pawl on the Cloth Advance. A Sliding Beater, like the one that's been so well received on our Rug Looms, twin-mounted on precision ground and hardened steel rails, is a standard feature on the SDL.
Because we know that sometimes it's the little things that count most, we've provided a built-in tool holder; a well-integrated shelf to store all those weaving accoutrements that seem never to have a place; and provision for task lighting.
Real Value
Price is important. Consistent with our basic design premise that this loom should be accessible to schools and students, with their usually cramped budgets, we've done all we can to control costs without compromising quality. When you tally its features, we think you'll be astounded to find that we offer a 16 shaft Studio Dobby Loom, with Compu-Dobby® at a reasonable cost (contact AVL directly for pricing)!
The price many vary somewhat outside North America, but it's clearly our intention to make this loom truly affordable. Please note (you'll like this): there's no assembly on the AVL Studio Dobby Loom. That's right; just pull it out of its box and you're ready to weave.
Studio Dobby Loom Specifications
Studio Dobby Loom Specifications:
| | |
| --- | --- |
| Height: | 49" (124 cm) |
| Width: | 43" with Compu-Dobby® and Warp Beam Handle (109 cm) |
| Weaving Width: | 20" (50 cm) |
| Length: | 45 1/2" with Second Beam |
| Foot Print: | 26" x 43 1/2" |
| Weight: | 175 lbs. (80 kg) |
| Harnesses: | 16 or 24 |
| Heddles: | 25/harness plus 200 extra heddles |
| Beater: | Sliding Beater |
| Beams: | 1 or 2 Plain Beams - or - 1 Sectional Beam |
| Power (for Compu-Dobby®): | 115 or 220 VAC |
At AVL there's always a helping hand
When you open the box, you'll get much more than immediately meets the eye; you'll get some of the best customer service offered anywhere by anyone, for as long as you own your loom. It's our willingness and ability to provide this kind of support that has made it possible to place and maintain AVLs in more than seventy countries world-wide.
So, if you're in the market for a Space Friendly, Economical, Bullet-Proof, Easy-to-Use, Full Featured Weaving Machine, backed by a company that preaches "Thou Shalt Provide Excellent Customer Service" and practices what it preaches, we heartily - if immodestly - recommend the new AVL Studio Dobby Loom.
For our latest price list, click here. International pricing may vary. Contact us for more information!