Update on Little Weavers and AVLDrive
Jul 02, 2013
We are moving right along in getting this first batch of Little Weavers out the door! Here's a peak at the production model, complete with black satin powder coating on the major metal parts and a beautiful walnut beater: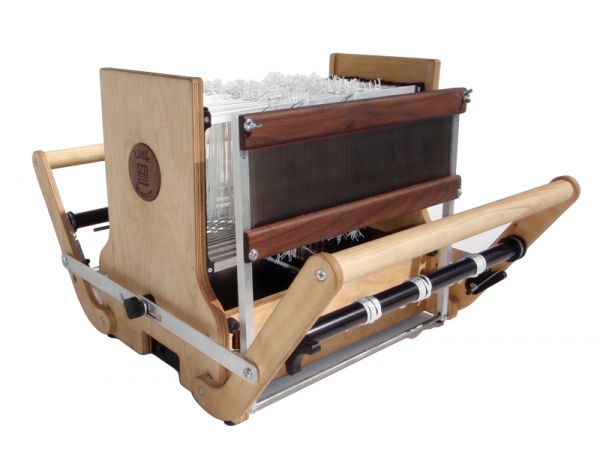 Our Little Weaver rolling cases are expected to be here next week, so we'll be getting those shipped out pretty soon as well!
AVLDrive, AVLAdmin and AVLUpdate
We have also posted the release version of AVLDrive software, which is our standalone loom driver software that can drive Little weaver and Compu-Dobby IV and can run on Mac OS 10.6.8 and newer or Windows XP sp3, Vista, 7 and newer with compatible Java software. We are also releasing AVLAdmin and AVLUpdate. You can find these software programs for FREE download here.
AVLAdmin
AVLAdmin provides the necessary interface to connect your WiFi-compatible loom (Little Weaver and CompuDobby 4.5) to a WiFi network. Most WiFi networks are accessed through an encrypted passphrase. AVLAdmin's simple, yet effective, interface allows you to find your WiFi network, assign a proper passphrase for your loom, and name your loom(s) for easy connection even when more than one loom is connected to the WiFi network. If you have an older Compu-Dobby and would like to upgrade to a Wifi-compatible model, contact us today!
AVLDrive
AVLDrive is a loom control software program that runs off the common WIF files that nearly all weaving design programs can produce. WIF stands for Weaving Information File: http://www.mhsoft.com/wif/wif.html. It allows a USB or Ethernet (wired or WiFi) connection with compatible looms. The interface is designed to automatically connect to the loom. Once you set it up, it is always there and ready to weave.
AVLUpdate
AVLUpdate allows the Little Weaver owner to update the dobby firmware without sending it back to the factory. This is a major step forward in usability as it allows AVL to continue adding features and improve your weaving equipment.