Professional Dobby Rug Loom
The AVL Professional Dobby Rug Loom is the ultimate heavy-duty loom, with precision engineering for rug weavers who need AVL-style responsiveness and sweeping versatility.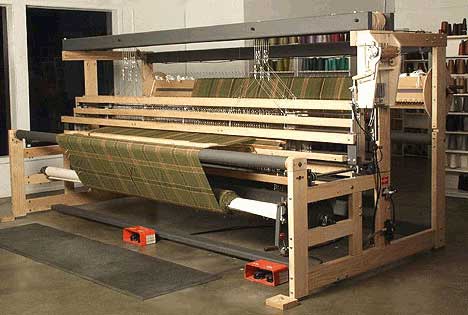 To provide maximum AVL performance, the Professional Dobby Rug Loom combines the design flexibility of the AVL dobby with high tech features such as an air-powered shed and a rugged sliding beater.
The Professional Dobby Rug Loom also features extra-sturdy construction with over-sized kiln-dried hardwood members on the smaller (under 8 foot) looms, and steel on the larger units. On all looms, all rollers and warp beams are steel and the beater is reinforced with steel as well.
Our largest loom, the 20 foot Professional Dobby Rug Loom (Click Here for pictures) features oversized steel members that carry the load like no other. But, it is the special components created specifically for the demands of rug weaving that make AVL's Dobby Rug Loom an exceptional value:
Our unique Sliding Beater is mounted on parallel stainless steel rods, so each beat is at the perfect angle to the fell line. Integrated slide bearings allow the weaver to pull even the fifteen-foot beater with virtually no effort. And, unlike overhead beaters, this one stays where you put it for convenient pick-up and tapestry work.
The Air-Powered Dobby provides effortless operation no matter how wide your loom. Even a twelve-foot loom opens with ease. And, the extra large shed will stay open until you let it down with another tap of your toe.
The Air-Powered Warp Tension System yields optimum warp tension control possibilities. The combination of a powerful air cylinder, aircraft cable, and worm gear advancing system gives a tremendous range of sensitivity yet maximum tension at all times.
Standard feature on all Dobby Rug Looms include:
Air-powered warp tension
Air-powered shed opening
Apron with apron rod
Dobby system (8 or 12 harness) - 30 dobby bars with pegs, dobby peg wrench, 100 dobby chain ties
Choice of one or two beams: Sectional or Standard
Illustrated instruction manual
Extra sturdy kiln-dried hardwood construction
Steel heddles
Reed (your choice of 4, 5, 6, 8, or 10 dent)
Tool holder
AVL two-year warranty
Compu-Dobby is available option for all Professional Dobby Rug Looms
Specifications
 
4' (1.2m)
6' (1.8m)
8' (2.4m)
10' (3m)
12' (3.65m)
15' (4.5m)
Height
75" (1.9m)
75" (1.9m)
75" (1.9m)
75" (1.9m)
75" (1.9m)
75" (1.9m)
Overall Width
66" (1.67m)
90" (2.29m)
114" (2.9m)
138" (3.5m)
162" (4.1m)
206" (5.23m)
Front to Back
84" (2.15m)
84" (2.15m)
84" (2.15m)
84" (2.15m)
84" (2.15m)
84" (2.15m)
No. of Heddles
400
400
800
1000
1200
1500
Weight
900 lbs.
(409 kg) 
1300 lbs.
(591 kg) 
1600 lbs.
(727 kg) 
1900 lbs.
(864 kg) 
2300 lbs. (1045 kg)
3100 lbs. (1410 kg)


For our latest price list, click here. International pricing may vary. Contact us for more information!