Industrial Dobby Loom
A Powerhouse That's Easy to Love
The AVL Industrial Dobby Loom offers a wide range of weaving options for industrial sampling or small scale production. It represents a startling union of advanced electronics and pneumatics with AVL's tried and true loom technology.
For our latest IDL price list, click here. International pricing may vary. Contact us for more information!
Click on the areas below to learn more about the IDL:
Industrial Dobby Loom Details
Fabrics
Light, medium, and even heavy-weight fabrics of virtually all yarn types; natural, spun, and filament are all capable of being woven on the IDL. The wide range of applications extend from plain weaves to complex 24 harness dobbys.
Yarns
Spun yarns of natural and man-made fibers as well as filament yarns in a very wide range of yarn counts are all possible. The loom performs well with medium density cotton, heavy novelty yarns (chenille), and super-fine silk among others.
Widths
The IDL is available in two reed widths: 24" (61 centimeters) and 60" (152 centimeters).
Loom Frame
Sturdy ash members connect to the heavy-duty side frames with special locking hardware to help insure rigidity and low vibration. The control units are housed in fully enclosed boxes of the finest Finnish birch.
Reed Motion
The sley rides on twin stainless steel rods. The beat is even and smooth, always striking the fell line at a perfect 90º angle. Self-aligning bearings ensure a lifetime of smooth performance.
Technical Details
Computer Optimized Design
The lifting motion is controlled by a standard twenty-four harness AVL Compu-Dobby®. When linked to the controlling computer, patterns can be changed in a matter of seconds. A newly re-designed Dobby mechanism features a machined plate that rides on specially manufactured slide rods and linear bearings. These high-grade materials result in a smooth action which will require virtually no attention.
Advanced Pneumatic Drive The IDL is driven entirely by air. Using pneumatics in conjunction with advanced electronics increase longevity; decreases vibration; and makes the loom clean and easy-to-maintain.
Sensor Control: Another unique feature of the IDL is the strategic use of sensors throughout the loom. Photo sensors and reed switches are used to sense all motions and send them back to the control unit for constant monitoring of the system. The photo sensors, for example, are used to see whether there's a shuttle in a box. If the shuttle isn't seen there, it won't be thrown, which adds to the safety of the operator.
Color Selection: The IDL comes equipped with a 4x4 shuttle-box system. The color is controlled directly from the controlling computer. Color can be alternated automatically or defined on a pick by pick basis.
Mechanical Details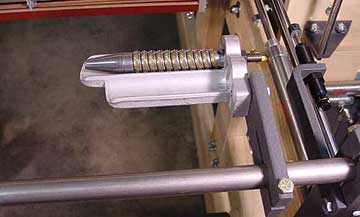 Each IDL is equipped with industrial-style adjustable temples. The number and intensity of the spiked rings can be changed for different fabric weights.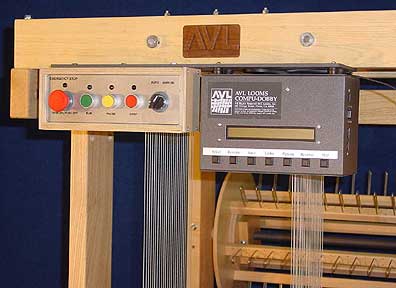 Push-Button Operation: A control panel in the center of the loom includes push-buttons for the following operations: start, pause, stop, and emergency stop. There is also a switch for toggling between automatic and manual operation.
In manual mode, each loom function can be individually controlled, including: advance, dobby, shuttle, and beater. So, the user can control each aspect of the weaving to make adjustments or changes as needed.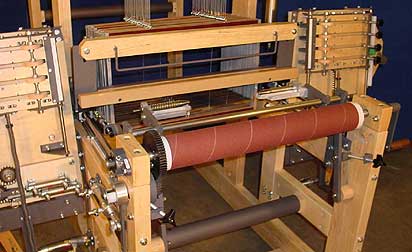 The IDL's four-by-four flyshuttle beater is a remarkably versatile device that saves time and money.
Warp Let-Off: Warp tension is controlled by AVL's celebrated Automatic Warp Tension system. The loom can use either one or two individually tensioned sectional or standard warp beams. AVL's tension system is highly sensitive and maintains a constant tension from start to finish.
Cloth Take-Up: A slip-free, gear-driven, take-up with a special sliding pick density system is a highlight of the loom. The pneumatically driven take-up is unique in the industry and provides a wide range of pickage.
Loom Specifications
Specifications
| | | | | | | |
| --- | --- | --- | --- | --- | --- | --- |
|   | Width (in reed)          | Full Width                   | Front to Back              | Height                         | No. of heddles | No. of harnesses |
| Sample Loom | 24" (61 cm) | 79" (200 cm) | 77" (196 cm) | 75" (190 cm)  | 3000 | 24 |
| Production Loom | 40" (102 cm) | 98" (249 cm) | 77" (196 cm) | 75" (190 cm)  |  3000 | 24 |
| Production Loom | 60" (152 cm) | 118" (300 cm) | 77" (196 cm) | 75" (190 cm)  | 3000 | 24 |
| Production Loom | 72" (183 cm) | 130" (330 cm) | 77" (196 cm) | 75" (190 cm)  |  3000 | 24 |
| | | |
| --- | --- | --- |
| Specification | Type | Estimated Consumption Value |
| Electrical - Control System | 110V / 220V |   |
| Electrical - Compu-Dobby | 110V / 220V |   |
| Pneumatics - All | 115 PSI | 25 CFM |
Notes:
1) Air consumption will vary according to the speed at which the loom is operated.
2) We recommend using a compressor with 100% duty cycle ratings. An alternative is a compressor with 50% duty cycle capability rated at 50 CFM @ 115 PSI.
Additional Links:
Recommended Air Dryers for Air Compressors