Home Loom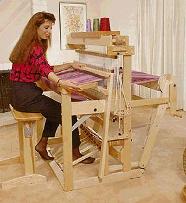 Although the Home Loom was introduced in 1989, it is derived from a loom originally built in 1949 by Jim Ahrens. The Home Loom is AVL's marriage between the innovative technology found in our other looms and a family room friendly design. We've even design the warp beam mounting to fold up enabling easier loom storage.
And even with a small price tag, this loom doesn't skimp on quality. It features the same kiln-dried hardwood construction, nicely oiled finish, and attention to even the smallest detail found on all other AVL looms.Another inviting characteristic is the Home Loom's unique side tie-up design. Never again will you have to crawl under the loom to set the pattern! This one benefit alone has drawn scores of customers to AVL over the years.
The Home Loom is available in 40" or 48" weaving width and comes standard with 8 harnesses and 10 treadles. The Home Loom is the perfect loom for the weaver who's just starting out and looking for a loom that can expand with the weaver's skills.
Contact Us today for more information!
Standard features on all Home Looms
AVL side tie-up harness system with thirty side tie-up cords
8 harnesses, 10 treadles
Heddles (800)
Standard beater with stainless steel reed (your choice of 6, 8, 10, or 12 dent)
Standard warp beam
Locking brake warp tension system
Illustrated instruction manual
Kiln-dried hardwood construction
Two aprons with three steel rods
Standard AVL two-year warranty on all parts and labor
Available Options
Metal Heddles (800), includes rigid harness with chromed steel heddle mounting rods
Single-Box Flyshuttle Beater, with AVL's Famous End Feed Flyshuttle and Pirns
1/2-Yard Sectional Beam
Second Beam system
Automatic Warp Tensioning System
Specifications
40" (100 cm)
48" (120 cm)
Height:
48" (120 cm)
48" (120 cm)
Overall Width:
50" (127 cm)
58" (147 cm)
Front to Back:
41" (104 cm)
28" folded (71 cm)
41" (104 cm)
28" folded (71 cm)
No. of Heddles:
800
800
Weight:
125 lbs. (57 kg)
140 lbs. (64 kg)