Folding Dobby Loom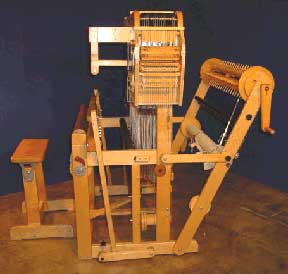 Historically, this loom was built in a variety of widths from 30" to 48" and in both modular, mechanical and Compu-Dobby form. It was even updated to the Compu-Dobby III. This loom is universally loved by owners and many remain in use today. Its production reign lasted over thirty years.
The Folding Dobby Loom is a sturdy, rugged loom that gives you all of the benefits and features of an AVL loom in a compact form. This loom's unique versatility makes it an excellent choice for the weaver who wants to produce exciting, very high-quality multi-harness fabrics quickly and easily or for the professional designer or school.
With its sixteen harnesses, the weaver can do three-block Damask, fancy sixteen harness twills, up to fourteen-block summer and winter weaves, and much more. In addition, when doing 12- or 14-harness weaves, two or four harnesses are available for the selvages.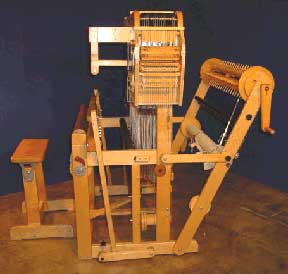 With a Dobby, It's All So Easy.
This sturdy loom was beefed up in 2002-03. Yet it can still be folded to take up a minimum amount of space, so it can easily pass through a standard doorway or be set out of the way when not in use. It is important to note that it can be folded without affecting the warp or its tension!
It also has the automatic warp tensioning and adjustable spring-loaded harness return systems which are basic to AVL loom designs. Additional options include a single or double flyshuttle beater, and double warp beams (either plain or sectional).
Standard features included:
Automatic warp tensioning
Automatic cloth storage system
Free standing bench
Apron with apron rod
Dobby system (16 harness) - (40 dobby bars with pegs, dobby peg wrench, 100 dobby chain ties)
Illustrated instruction manual
Kiln-dried hardwood construction
Polyester heddles
Reed (your choice of 6, 8, 10, 12, or 15 dent)
Tool holder
Two-year warranty on all parts and labor 
Specifications
 
30" (75 cm) 
40" (100 cm) 
Height:
62" (157 cm)
62" (157 cm) 
Overall Width:
45" (114 cm) 
55" (140 cm) 
Front to Back:
48" (122 cm)
or 32" or 81 cm folded 
48" (122 cm)
or 32" or 81 cm folded 
No. of Heddles:
1600
1600
Weight:
280 lbs. (127 kgs)
300 lbs. (136 kg)