A-Series Loom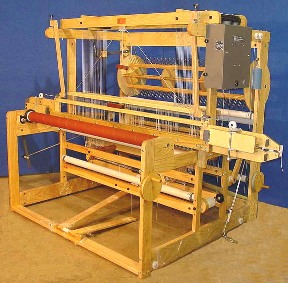 In honor of Jim Ahrens, AVL's Founding Father, AVL Looms has revamped its line with the remarkable new "A" Series. Henceforth all AVLs will have the ability to utilize options that were once seen only on Industrial Looms. So in addition to longtime favorites like the Automatic Cloth Advance, Automatic Warp Tension, and Automatic Cloth Storage, the "A" Series also offers the following optional innovations:
Low Profile Front Verticals
Pressure Roller
Temple Rollers
New-Style Automatic Cloth Advance
Choice of Classic Mechanical Dobby or latest Compu-Dobby
What this means is that AVL looms will yield a level and consistency of fabric never before seen on handloom. Better yet, "A" Series looms are more comfortable and easier to use than any prior AVL model.
The "A" Series is available in the following widths:
30" (75 cm)
40" (1 meter)
48" (1.2 meters)
60" (1.5 meters)
72" (1.83 meters)
And it can be equipped with:
Classic Mechanical Dobby (either 16 or 24 harness) convertible to Compu-Dobby II
Compu-Dobby IV (8, 16, 24, or 40 harnesses)
But why the change? Why refine a classic?
Here's Why
Over the years, the AVL line has grown and evolved. In 1977, we brought out the Production Dobby Looms that revolutionized handweaving. In the early 80's,the Compu-Dobby was born. The late 80's saw the introduction of Air-powered Dobby Rug Looms. In the early 90's, we started building the Industrial Dobby Loom. By the late 90's, and the dawn of a new Millenium, we had added the Studio Dobby Loom and our cutest loom of all, the California Traveler. Each of these looms had some unique qualities; qualities that weavers wanted on all of our looms. Now, the engineering staff at AVL has succeeded in bringing decades of innovation together. The result is the newest star in the AVL galaxy. And it's named after our greatest star of all, Jim Ahrens … thus the "A" Series was born.
We're certain Jim, who passed away in December 2000, would have loved the "A" Series because once again, AVL has brought high technology and textile industry know-how to the world of handweaving.
What's New?
Low Profile Front Verticals
Low Profile Front Verticals

Look at the photos of the loom. It's open in the front. Where once there was the famous four post design of Jim Ahrens, now there is space. Our engineers added an extra pair of braces in the middle of the loom that actually make the "A" Series more rigid and sturdy than our classic design. Plus, the new low front verticals make it easier than ever to use an AVL because the front end is more accessible.
Pressure Roller
Pressure Roller

AVLs have long been famous for our unique Cloth Beam, also known as the Sticky Beam. While other looms have smooth breast beams, ours is covered with Sandpaper (or now SoftGrip™). The Sticky System permits the AVL loom to use two separate tensions. One for the warp and the other for the finished cloth. The twin tension system means that one never has to worry about matting or distressing the finished fabric. It also means the warp tension is set at the warp beam ... where it belongs.
Temple Rollers
Temple Rollers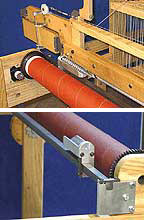 Let's face it, temples are a pain. Weave a few inches, release the temple, re-set it, and start again. Not with a Rolling Temple. Just set the AVL Temple Rollers on the edges of the fabric and start weaving. There's no re-setting; no adjusting; just a smooth piece of fabric with practically no draw-in. Temple Rollers are ubiquitous in the textile industry so there is an incredibly wide range of needled and general purpose rings to choose among. Best of all, your cloth will be more uniform than you ever dreamed possible. Temple Rollers have been standard equipment on the AVL Industrial Loom for over ten years; now they are available as part of the "A" Series.
Automatic Cloth Advance
Automatic Cloth Advance

We're fudging a little here, because the new style Automatic Cloth Advance has been around for a couple of years now. But now it has been combined with Temple Rollers and the Pressure Roller; and what a difference the sum of these parts makes! The Auto Advance has never worked better. The Automatic Cloth Advance truly shines when consistency of weft spacing is a must. No matter how one beats, the weft spacing will always be the same ... exactly the same. The cloth steadily marches forward one pick at a time. No more foot brakes, no more advancing levers … just weave.
Best of All
Of course, the best news is "A" Series looms are still AVL looms. So they come to you with the same attention to detail that have made us famous the world over. Every existing feature and accessory on "classic" AVLs is available on the "A" Series. AirLifts or eLifts; Single-, Double-, or Four-Box Flyshuttle Beaters; One, Two, or even Three Warp Beams per loom; and all the rest. It's all available on the "A" Series.
Specifications
A-Series Looms
| | | | | | |
| --- | --- | --- | --- | --- | --- |
| Weaving Width | 30" (75 cm) | 40" (1m) | 48" (1.22m) | 60" (1.5m) | 72" (1.83m) |
| Height | 70" (1.78m) | 70" (1.78m) | 70" (1.78m) | 70" (1.78m) | 70" (1.78m) |
| Overall Width | 45" (1.14m) | 55" (1.4m) | 62" (1.58m) | 74" (1.88m) | 86" (2.18m) |
| Front to Back | 66" (1.67m) | 66" (1.67m) | 66" (1.67m) | 66" (1.67m) | 66" (1.67m) |
| Weight (lbs.) Mod | 320 (145 kgs) | 330 (148 kgs) | 380 (172 kgs) | 395 (180 kgs) | 425 (193 kgs) |
| Weight (lbs.) 8H | 358 (163 kgs) | 368 (167 kgs) | 418 (190 kgs) | 468 (223 kgs) | 518 (235 kgs) |
| Weight (lbs.) 16H | 365 (166 kgs) | 375 (170 kgs) | 425 (193 kgs) | 475 (226 kgs) | 525 (238 kgs) |
| Weight (lbs.) 24H | 375 (170 kgs) | 385 (174 kgs) | 435 (197 kgs) | 485 (230 kgs) | 535 (242 kgs) |
| Weight (lbs.) 40H | 440 (198 kgs) | 450 (202 kgs) | 485 (230 kgs) | 535 (242 kgs) | 585 (266 kgs) |
AVLs are currently being woven on in over 80 countries and all fifty states. All AVLs are built at our newly modernized facilities in Chico, California. All wood parts are cut, shaped, and drilled on our Computer Numeric Controlled (CNC) wood cutting marvel. Steel, aluminum, and alloy parts are machined on a similar unit in the metal shop.
What this means to you is an unprecedented precision and, therefore, quality like never before. And, lest we forget, a lower price. Compare the price on an A-Series loom to AVLs built the "old-fashioned" way. You'll see the price has actually dropped by a substantial margin. So let's see. Improved fabric quality. Easier operation. Lower price. More choice than ever before. What's not to like?
For our latest price list, click here. International pricing may vary. Contact us for more information!
You must install Adobe Flash to view this content.