Press Release: Mark Adams exhibition at SJ Museum of Quilts & Textiles
Mar 07, 2012
Dear California Weaving Guilds,

The San Jose Museum of Quilts & Textiles will be exhibiting the tapestry work of San Francisco Bay Area artist Mark Adams from May 15 - July 29, 2012. This is the first exhibition since 1990 to feature Adams' tapestries, and it will include over 25 pieces from our collection, his family, private collectors, and other museums.
Adams' pictorial tapestries are known for their rich colors, bold designs, and fine craftsmanship. As a young painter from San Francisco, Adams was attracted to the intersection of art and architecture and the designs he saw in contemporary French tapestry. He went to France in 1955 to study the art form with Jean Lurcat, where he began his life-long interest and work in tapestry. He later developed a unique relationship with the San Francisco Tapestry Workshop and honed a definitive and keen understanding of the medium.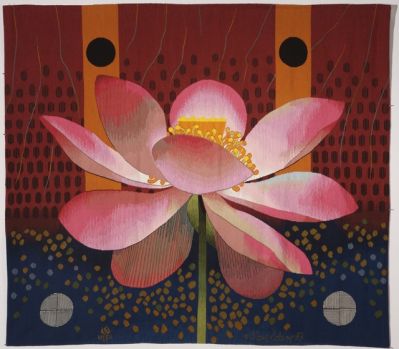 This is a rare opportunity to see this amazing and dramatic body of work that ranges from his earliest tapestries of the 1950s to pieces woven at the SFTW in the 1970s, and one of his most recent commissions Lilith, a rare figurative piece. Also featured are examples of his cartoons— the full scale paintings for the tapestries—and drawings, watercolors, and photographs of a young Mark Adams by Minor White. We hope that local guilds will take advantage of this historic exhibition and visit the Museum to view this unique tapestry retrospective of an amazing artist.
We also have sponsorships available that range from $250-$1,000 each has a unique and wonderful set of benefits.
Regards,
Deborah Corsini, Curator
San Jose Museum of Quilts & Textiles