Little Weaver Update and Holiday Sale Reminder for Dec 11, 2012
Dec 11, 2012
Holiday Sale Reminder
It's that time of year again! For many of us, that means hectic planning, decorating and shopping!
We just wanted to help by sending out a little reminder that our Holiday Sale is still going on until December 14, 2012. Use coupon code FALL2012 at checkout (case sensitive).
40% off most reconditioned looms
20% off all A-Series, V-Series, Jacq3G looms & Home Looms
10% off all warping equipment including Electric Bobbin Winders and Warping Wheels!
Little Weaver Update
The first batch of Little Weavers has already sold out! We were hoping to have started shipping already, but as some of you know, our wood and metal shops have been busy, busy making parts for a 15 foot and a 20 foot rug loom (see below). We are back on track and putting together the latest pre-production unit as I type this. We expect to start shipping this first batch of Little Weavers in January. (For those of you who expected to receive one as a holiday gift in December, please contact us). We have begun taking orders for our second batch (which should be a much larger batch) and estimate that we will start shipping these by the end of the first quarter in 2013. Click here to see more details about the Little Weaver!
Now, if you thought our first prototype was exciting, check out the new features on this second one!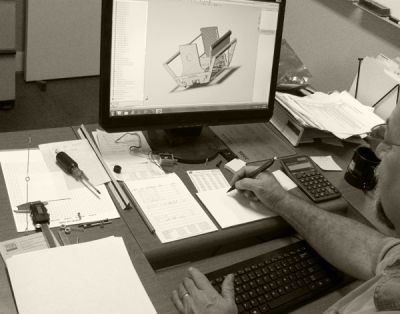 At this year's HGA Convergence in Long Beach, CA, you welcomed our newest addition to the AVL family with enthusiasm and gave us your feedback. We took your comments and excitement and used them to improve our design. Here's a list of new features we are testing on the latest version:
Increased shed size – This should make standard end feed shuttle use much easier.
Improved Beater Action – Shed remains open by itself. Some of you preferred not to have to keep your hand on the beater to hold the shed open. We did some brainstorming and think we've got a pretty good idea to make this happen.
Lighter lifting load – Making the harness lift as light as possible is a constant focus of the Little Weaver team. Going to floating harnesses and improving materials and design have allowed us to significantly reduce the lift.
Slipping Brake on the Warp Beam – Taking a page from the Folding and Workshop looms, we added a slipping brake system so the weaver doesn't need to reach around the back to advance the warp.
Better Beater – We've modified the reed retention system to allow for a wider range of reed sizes, so that you should be able to use any 16" reed you have available. We also relocated and beefed up the mounts to improve durability and give a smoother beating action.
Dust Protection – We've added protection for keeping dust out of the box from the harnesses above.
Easier Knobs – We've switched out the knobs on the beams for bigger, easier to turn knobs.
New Packaging – It seems that carriers are more rushed and more careless these days. In response, we are installing new packaging for better protection during shipping.
Rolling Case – We have ordered custom rolling cases for Little Weavers. These are made with ½" foam padding all around with a top opening, telescoping handle and wheels to make traveling with your Little Weaver a breeze. We are offering these cases at an Introductory price of $280! Regular price will be $349.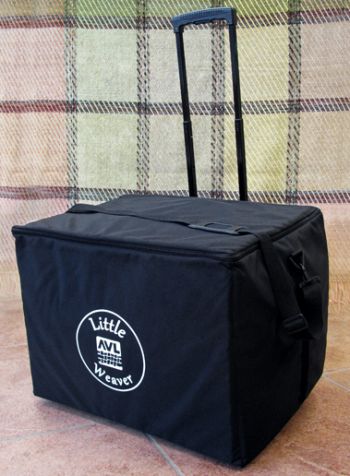 The Infamous Rug Looms!
Many of you have heard about the Monster Rug Looms that have been taking our utmost attention the past few months. We have been documenting their progress from raw steel to assembly with black and white photos. These behemoths will be shipping out in a 40 foot cargo container next week on their way to their new home in Colombia. The company, Hechizoo, is a long time customer of AVL's and weaves the most amazing rugs, including some that are woven with metal wire. We will be posting a photo essay with our Rug Loom pictures throughout this part of their journey, so stay tuned and check our blog regularly! If you want to see Hechizoo's work for yourself, please visit their website at http://www.hechizoo.com/.