The Kitsap Weaving School
Jan 18, 2012
Each of us has a need inside ourselves to do something greater than ourselves, to help our community and to contribute positively in the lives of others. Many of us are still searching for our little niche in the world - a way to make a difference. I recently learned of a volunteer project led by longtime AVL customer, Barb MacIntyre, at an assisted living facility. About two years ago, she volunteered to teach weaving at Montclair Park Community in Poulsbo, WA. The program has been so successful that the facility has agreed to give it a dedicated space and to let Barb extend classes to the general public.
Barb claims to be just an ordinary person with a talent who loves people and wants to share that talent with others, but I like to think of her as an extraordinary person with great passion for what she's doing.
She wanted me to especially emphasize how good it feels to see the difference this program has made in the individual lives of these people and to remind all of you out there who also have a passion and a talent for weaving (or any other craft) that you can start small and make a big difference right in your own community.
Please read on for more of this story written by Johnny Walker and a photo slideshow.
Amanda, AVL Looms
Montclair weavers improve quality of life
By Johnny Walker, Almost Candid Photography
When Lee Sandstede went to work in 2007 for the Montclair Park Assisted Living and Memory Care Community in Poulsbo, Wash., he found a piece of wooden furniture hidden away in the sprinkler room that he couldn't identify. He didn't know that with the help of nearby Kingston's Barb MacIntyre three years later, the two would use the odd wooden device to collaborate on a unique well care initiative that would bring enrichment to several of Montclair's residents.
What was the secret? The furniture wasn't actually furniture. It was a 1970's era 45" Loomcraft, 4-harness loom, and MacIntyre wasn't just an interested bystander. She was an experienced weaver of over 40 years with a passion to teach. It was the perfect combination of interests to help others.
As a semi-retired professional weaver, MacIntyre is now the proprietor of the Kitsap Weaving School, also located at Montclair Park. With a strong belief that senior care outreach would be another great way to use her talents to share and make a difference in other people's lives, she and Sandstede nurtured and grew an active weaving room with 7 looms and even more small frame looms from the initial discovery. MacIntyre now teaches residents as a weekly part of Montclair's overall program.
To date, the therapeutic effect on Montclair residents is largely anecdotal but promising. For example, 87 year old Audrey Klein from Milwaukee, Wisconsin did some weaving when she was younger and found that getting back into the art form was beneficial to keep her mind active and retain mobility in her arms. Canadian born Kathleen Sproule found that at 92, weaving not only brought value to her day but she discovered she could stand up for longer periods of time and move her arms easier. Both the women found that they enjoyed the activity and purpose it brought them, with Sproule happily revealing that she gave away her work as fast as she could make it.
Though he felt some trepidation when first embarking on the initiative, Sandstede soon observed social benefits to the residents through the increased interaction and purpose in their lives when they weaved and then gave products away. He noticed that mobility improved with activities such as [combing] hair and getting dressed, and now firmly believes the activity will prolong a resident's ability to be independent.
As for Barbara, well, she understood it all along. With a new purpose of helping others find purpose, she has found new way to use her talents. And that is a very special purpose of its very own.
For more information about Kitsap Weaving School, contact Bmacintyre@kitsapweavingschool.com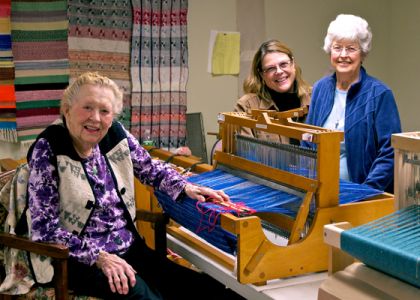 Photo by Johnny Walker, Almost Candid Photography. Instructor Barbara MacIntyre (center) poses with seniors Kathleen Sproule (left) and Audrey Klein (right) at the Kitsap Weaving School, Poulsbo, Wash.