Jacq3G Installations in the Great White North
Jan 31, 2012
I recently returned from a trip up to Canada. While the weather was snowy and cold for this CA boy, it proved to be a fantastic trip of installing looms, meeting weaving professionals and learning about two thriving weaving programs.
My first stop was in Calgary, AB at the Alberta College of Art and Design. This program has been around a while, but has been infused with energy by Mackenzie Frere. Mackenzie has been teaching weaving at ACAD for five years and he is a true believer. He is joined by the highly capable weaving studio technician Tara Niscak. Together we constructed a complete Jacq3G in just about nine hours. We then got to warping a narrow test warp and off to weaving! Here's Mackenzie and Tara at the loom: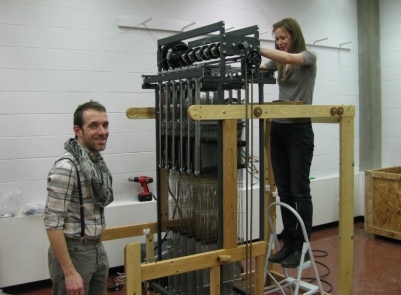 You can view more pictures at the ACAD blog. You can read more about Mackenzie's weaving at hispersonal blog. Tara is also quite an artist and planning a line of men's garments for launch in the near future. I will also post a video of Mackenzie weaving shortly.
My second stop was at Capilano University (formerly Capilano College). While their weaving program is not new, what is relatively new is their status as a Bachelor's level program. Ruth Scheuing is the weaving instructor and Petyna Bougie is the Weaving Tech. I witnessed first hand what a lively bunch the Capilano crew are. With Ruth & Petyna's help, we modified their old Production Dobby Loom to accept the Jacq3G components, then installed the loom. This took an astoundingly short eight hours. The last day was spent warping and weaving a narrow test warp.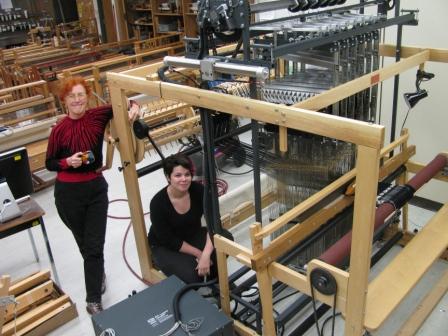 All in all, it was a fun and successful trip, and I am happy to have made it home in time for my eldest daughters 13th birthday!