eShuttle for Oct 23, 2012
Oct 23, 2012
2) AVLDrive Software - Beta Version
3) WeavePoint Free Upgrade for Version 7.1
AVL Holiday Sale!
Our holiday sale will run from now until December 14, 2012. Use coupon code FALL2012 at checkout (case sensitive).
40% off most reconditioned looms
20% off all A-Series, V-Series, Jacq3G looms & Home Looms
10% off all warping equipment
AVLDrive Software – Beta Version
AVLDrive is in beta testing. If you have a compatible loom and are interested in trying the software, we invite you to download it at http://www.avlusa.com/catalog/software/avldrive.
AVLDrive is free loom control software for all Compu-Dobby IV-equipped AVL looms and Little Weaver. This version works with Mac OS 10.7 and Windows 7, Vista & XP. AVLDrive weaves from the common WIF-formatted files. It has some really great features including editable tabby, but its main goal is to make connecting to your loom dead simple. Its genesis is rooted in seeing the frustration develop as loom-software interfaces have become more complicated rather than easier to use. With AVLDrive, we aim to fix that problem and increase your joy in weaving.
We're looking forward to hearing from all you AVLDrivers!
WeavePoint Free Upgrade for Version 7.1
Version 7.1.0 is now available for WeavePoint. For those of you with version 7, the upgrade is free. If you previously downloaded version 7 from WeavePoint's website, it is the same link and same login credentials. If you need the link and login information, please contact us. If you do not have version 7 and would like to upgrade, the cost is $117 per each major upgrade (v6, v6.4, v7). Purchase Upgrade Here
Little Weaver News
We received so much good feedback at HGA's Convergence this year for our newest loom, Little Weaver, that we are busy, busy making improvements! If you haven't heard about Little Weaver (our computerized table top loom), take a look here! We will be posting a detailed update here on our blog soon, so make sure to keep checking back!
Below: One of our engineers working on Little Weaver CAD Drawings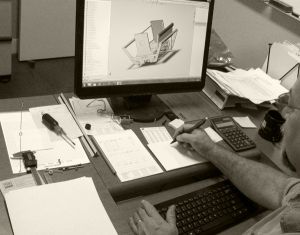 Weavers in the Spotlight
Jannie Taylor
A Belated Congratulations to Jannie Taylor for winning the HGA Award for her Play it Again Ensemble in the HGA Convergence Pacific Currents Wearable Art Fashion Exhibit. For those of you who got to see the outfit in person, you can attest to its fabulousness! The peeking fiddles were, of course, my favorite part.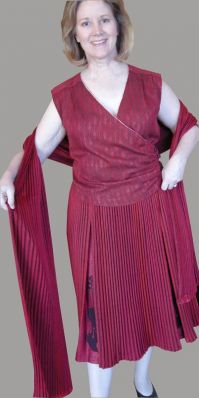 Tara Niscak
Tara has taken the plunge and opened her own lingerie business. "It's real now, no turning back" she said to us in an email. Tara is marketing a sensuous, rather than racy, line of lingerie aimed at those who would like to lounge around in luxurious silks. The Fall 2012 Signature Collection comes in Navy and Ivory, each with the hand-printed design made from signatures in Tara's life. All pieces are made from 100% silk with fine details such as French seams, bound edges and bias cuts made to skim the body's curves.
You can view her Fall 2012 lingerie line at www.salonska.com.
Sian O'Doherty
The following copy has been provided to us, permission and courtesy of Sian O'Doherty:
Perceived Perceptions
Textiles can be a powerful medium for creating illusions enabling artists to design concepts that are different to reality. Sian has been drawn to creating a textile collection that incorporates optical illusions, whereby her creations at second inspection reveal themselves differently, and are not what they first seem.
Her initial inspiration came from Google earth images- drawing reference from the patterns and vibrant colours created by estuaries. Her Welsh heritage is also apparent in many of her designs where she draws reference to historical Welsh textiles.
Fundamental to the body of work, has been the in depth technical exploration of multi-layered weave structures combined with colour and the deviation of the expected path of a warp thread. Hand manipulated distortions rise and fall from structurally patterned ground weaves, emphasised by carefully considered bands of contrasting colour. Incredibly labour- intensive to produce, there is also no scope for errors. Impossible to commercially produce in volume they are a celebration of hand created textiles.
Keeping in mind the aspect of optical illusions Sian digitally developed her woven creations into new patterns that would be impossible literally to weave, but significantly look like weaves. She utilises modern technology to develop her woven creations into new dimensions, thus providing opportunities for maintaining handmade crafts yet with the possibilities of mass production.
Sian hopes to create a visual technical challenge that tricks the viewer when observing her designs, which she intends to be used primarily for interiors, both functional and aesthetic.
Major achievements to date include second place winner of the international Hand and Lock hand embroidery competition 2010. She received two commendation awards from Bradford Textile Society in 2010 and is currently exhibiting in the touring exhibition 'Invisible Cities and Hidden Landscapes.' She was recently successful in gaining a scholarship from the Milford Haven Port Authority providing her valuable support through her studies. She has been part of a group exhibition 'Little and Large,' in 2010 as well as taking part in the touring exhibition 'Lines and Strata 2010.' She was invited to take part in the Christmas exhibition at 'Craft in the Bay' Cardiff for December 2012.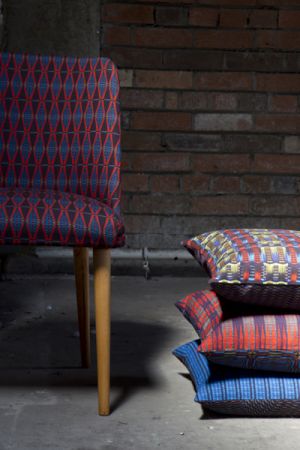 Click here to see a slideshow containing more photos from the collection.
Sandy Fisher and the Mt Lassen Fiber Guild
Our local Mt Lassen Fiber Guild recently held their first (and hopefully annual) Fiber Fusion event in our hometown of Chico, CA this past Sept 29th. The event was a huge success featuring local weavers, spinners, dyers, knitters, lace makers and other fiber enthusiasts as well as local yarn shops, sheep farmers and the like. The community response was great and it seemed that everyone was having fun and enjoying the chance to Ooo and Ahhh at all the beautiful fiber and fiber creations.
Leading up to the event, our local newspaper visited Sandy Fisher in her studio and did a fantastic article and film segment you can see by clicking on those links. We applaud the Mt Lassen Fiber Guild for getting out there and introducing more people to the fiber arts! Are you and/or your guild also doing community outreach? If so, we want to hear about it!
View pictures of Fiber Fusion here. See if you can spot the AVL Workshop Dobby Loom.
Joyce Carey
In the last eShuttle, I spoke of this theme "Past, Present and Future" continuing to crop up over the last few months for us here at AVL – maybe it's the Spring weather! I shared with you a few of the stories I came across recently that illustrated the past, present and future, and now I have a story for you that is all about metamorphoses in time as well as in form. Joyce Carey recently contacted AVL regarding a shuttle she was giving away, and Peter Straus immediately recognized her name. He sent me an email and told me that Joyce was the first AVL "power user" and that she had done this wonderful piece called "Heartbeets" where she did an Escher-like transformation from Valentine's hearts to beets. Heartbeets was used as AVL's main point of reference for what could be done with a dobby – pre CompuDobby! Please enjoy her side of the story below and for more historical information about Jim Ahrens (AVL Founder and the "A" in AVL) and Pat McGaw, read the History of AVL on our website.
"From the time I learned to weave, I was interested in multi-shaft weaving. At home, I had a 48-inch twelve-harness Macomber, on which I could weave marvelously complex designs. The drawback to the Macomber was the weight, lifting as many as ten harnesses at a time.
A series of happy coincidences led me to meet Jim Ahrens, who shared his fascination with a lightweight dobby mechanism with me. I can still hear him saying "It's so slick!" At the time, I was teaching a class in multi-shaft weaving at Pacific Basin Textile Arts in Berkeley. I met Jim through my friend and co-owner of Pacific Basin, Pat McGaw. Around the same time, Ken Colwell of The Looms in Mineral Point, Wisconsin was becoming interested in the Ahrens-AVL dobby loom. Ken worked closely with me and the weaving department at the University of Wisconsin while I was a professor of weaving and textile design. I was able to secure a grant to purchase an AVL, plus computer equipment for drafting designs. I smile to think how magical it was to program weaving drafts on such primitive electronics--a black and green screen, and a processor so slow that I could literally make a complex draft faster by hand. How far we've come!
The weave structure that I used most often was a two-tie weave which was often used in early American Star and Diamond coverlets. Ken had a large collection of coverlets, which he allowed me to analyze for the weave structure. I wove several sample pieces on the university dobby loom. I never owned an AVL of my own, or needed to, since one was available to me at the university. I was always interested in the potential for changing the motif from one image to another, a way of representing time, change, growth and decay. I also have a lifelong love of puns and word play. Everything came together in "Heartbeets," where not only the shape changes, but also the dimension, through the gradual addition of crocheted "leaves" and the body of the beets."
~Joyce Carey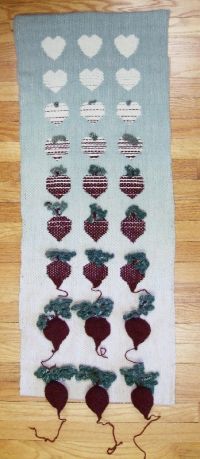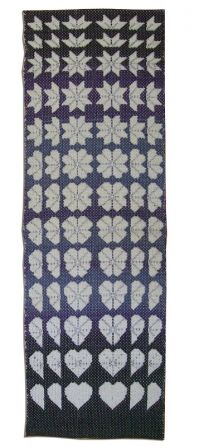 I'm delighted that Joyce still had the weavings stored away somewhere safe and was able to send us pictures. I also thought it was fitting that in the email she sent me, she remarked "I am marveling this morning at the ease of taking a picture with my digital camera and cleaning it up in Photoshop. So much easier than setting up lights, hauling out the film camera, bracketing shots, waiting to have them processed." Oh, how times have changed indeed.