AVL Website Make Over and Celebration Sale!
What's in this issue?
3) Nov 19th Seminar: Ancient Peruvian Textiles and Natural Dyes
4) Jacq3G Addict: Annette Robitaille
5) On the "Printing" Edge of Technology
7) Weavolution: Confessions of a flyshuttle convert
AVL's New Website
AVL's website just got a makeover! We've updated our look and streamlined our information to make navigating much easier and more intuitive. We are still adding to the site, so let us know if there's anything else you'd like to see on there, and of course let us know if you run into any trouble while using the new site. You can see that our eCommerce shopping site is now integrated right into our main site at www.avlusa.com/catalog! If you have any questions or comments, you can always feel free to contact us through our new contact form located at: www.avlusa.com/contact-us/.
To celebrate our new site and to reward those of you who have patiently waited for the eCommerce site to come back up, we're having a Pre-Holiday Celebration Sale! Just enter the coupon code holiday11 to receive 15% off of all warping accessories, including our popular warping wheel! The code is case sensitive, so please type exactly as shown.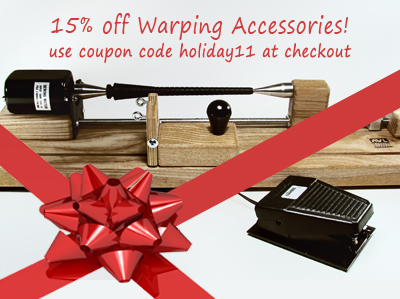 Nov 19th Seminar: Ancient Peruvian Textiles and Natural Dyes
Our local Mt. Lassen Fiber Guild will be hosting a seminar on Ancient Peruvian Textiles and Natural Dyes by Botanist Kay Antunez de Mayolo. This seminar is free to the public and will be held at AVL's building located at 2360 Park Ave, Chico, CA on Saturday Nov 19th, 2011 at 10:15am. If you are in the area, please be sure to stop by!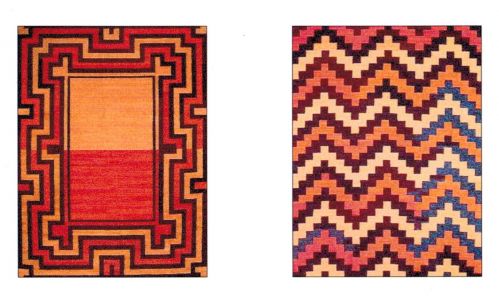 Jacq3G Addict: Annette Robitaille
Our dear friend Annette is now addicted to Jacquard weaving and her new Jacq3G loom… Annette lives on the beautiful island of Orleans, Québec Canada and is preparing for winter, where she'll spend a large amount of time indoors (on her new loom of course!) She recently sent us a few pictures of a sampling for mohair shawls, using 2 satin color shades applied on 14 grays. The results are stunning and very reminiscent of the natural world, where she gets her inspiration. Annette and her husband have a little boutique on the island where they sell her weaving and his whimsical hand-made wooden figures to tourists. If you are in the area during summer, it is quite a treat to visit them! They have a webpage here where you can see some of the goodies: www.alombreduvent.ca – If you are not current on your French, please don't let that stop you- Click on ADR/DÉMARCHE ARTISTIQUE, ADR/TAPISSERIES and ADR/CHÂLES/ÉCHARPES to view more of Annette's work.
On the "Printing" Edge of Technology
We stumbled upon this little rigid heddle loom that seems like nothing out of the ordinary… that is, until you find out how it was made! Using cutting-edge, or should I say "printing" edge technology, someone created this 3 dimensional rigid heddle loom using a 3D Printer: www.thingiverse.com/thing:11374. One commenter said "The whole idea of printing a machine that can make things is great, too." I agree, what a neat concept!
To help you wrap your mind around the idea of a printer that makes 3D objects, I found this video special on ABC News Station's website: ABC News Video on 3D Printing. Not only is the technology possible, there are MANY different kinds of 3D printers! The loom you see here was actually made from a different technology than outlined in the ABC video. For more information, check out the Wikipedia page on 3D Printing here: 3D Printing Wiki.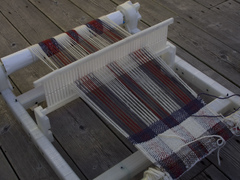 AVL's First Lace Class
We had our first lace class last month and if the students' smiling faces were any indicator, it was a great success! Our instructor, Jannie Taylor, taught the group how to weave Huck Lace, Bronson Lace and Swedish Lace using both WeavePoint and WeaveMaker Mi. Everyone loved it! To find more information on upcoming workshops, take a look at our website here: http://www.avlusa.com/workshops/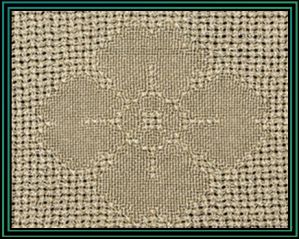 Weavolution: Confessions of a flyshuttle convert
On Weavolution, one member admits to converting over to "the dark side" of using a flyshuttle and dobby. See her take on the idea as well as comments from others on Weavolution's website: http://weavolution.com/forum/chat/avl-weaving-20537