eShuttle for March 08, 2012
Mar 08, 2012
Industrial Dobby Loom Sale!
What's in this issue?
1) Industrial Dobby Loom Sale!
2) Jacquard Weaving in Our Schools
3) Artoberfest Spotlight on Sandy Fisher
4) Väva! Veve! Chosen for OpenSky.Com
5) American Craft Council, Atlanta with Muffy Young
6) Weaver in the Spotlight: Laura Shirreff, ICICLE
Industrial Dobby Loom Sale!

Edit to add: Sale Ends April 17th!
In 1984, AVL offered our first-ever INTRODUCTION to PRODUCTION sale. It featured Jim Carr, a schoolteacher in nearby Redding California, who was a model for all who wanted to go into the business of weaving. For the record, Mr. Carr used a 48" 16 harness mechanical dobby with a single-box flyshuttle beater and the then revolutionary AVL sectional beam. How times have changed!
Since then we have periodically brought the Production Dobby Loom sale back as a ready and easy way for weavers to get into production, but never before, have we offered a discount on our INDUSTRIAL DOBBY LOOMS, our top-of-the-line automated looms.
So, now for the first time ever, we are offering a 10% discount on all new Industrial Dobby Looms. This is a WORLDWIDE Introduction to Production; so if you have been thinking about getting into production, this may be your best chance! Call Bob at 1-800-626-9615 extension 233.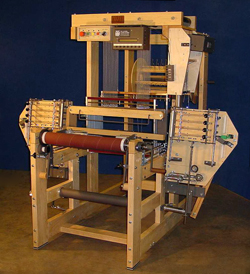 Jacquard Weaving in Our Schools
Alberta College of Art + Design (ACAD) and Kansas City Art Institute (KCAI) are just two of the latest schools to get a new AVL Jacq3G, and they're not wasting any time getting down to business! Check out this video of ACAD on YouTube and visit their Jacquard weaving blog. Read KCAI's press release regarding their Jacquard program on our blog here.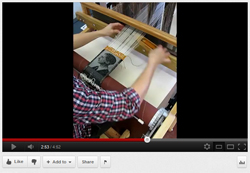 Artoberfest Spotlight on Sandy Fisher
Our hometown, Chico, is number 10 on the list of top Art Towns in California as compiled by John Villani in his book, Art Towns California. Every October, Chico hosts Artoberfest, a month-long celebration of arts and culture featuring over 100 exhibits, concerts, fairs and more. We recently came across this video of our very own Sandy Fisher who had been interviewed in her weaving studio, as part of a video series on local artists. We hope you enjoy watching this spotlight as much as we did!
Väva! Veve! Chosen for OpenSky.com
Products from Marian Dalhberg's company, Väva! Veve!, were recently chosen to appear on the website OpenSky.com. OpenSky is a social shopping site where people can go to find out and follow the favorite products of people they look up to, experts in the field, celebrities or other special curators on OpenSky. Marian's work will be featured under the products that Designer, Allegra Hicks, has picked. You can read a little more about Väva! Veve! on their website. To learn more about OpenSky watch this episode of Martha Stewart's show (on YouTube) where OpenSky's CEO and Founder, John Caplan, explains it best.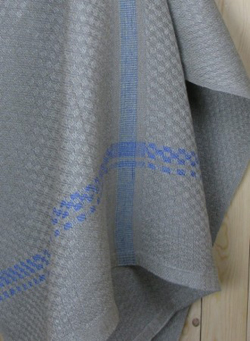 American Craft Council, Atlanta with Muffy Young
As some of you know, the next American Craft Council (ACC) show will be in Atlanta, GA March 9-11, 2012. (The preview party will be held on March 8). An AVL owner since 1981, Muffy Young writes that she will be at the ACC shows both in Baltimore (passed: Feb 22-26) and Atlanta. She started doing shows again in 2011 after quite a few years away. She's excited to tell us her weaving is included in the ACC campaign called Style Makers. Collectors wearing, holding and discussing work by artists are featured in articles in American Craft, Baltimore Style and other venues to be determined. If you plan to be at the Atlanta show, Muffy requests that you please stop by and say Hi! She will be in booth 602. See more at http://www.muffyyoung.com/.
Weaver in the Spotlight: Laura Shirreff, ICICLE

Laura recently came to us after getting the go-ahead from her new company, ICICLE, to purchase a Studio Dobby Loom for sampling purposes. I became intrigued by the name of this company, which is in Shanghai, China, and I started to wonder "Who is this girl?" She sent me a link to her website and my fascination grew deeper. Laura graduated from Sevenoaks International School in the UK and then Rhode Island School of Design here in the US. She has a stunning Jacquard portfolio and a beautiful website to show it off. I asked her to tell us more about herself and ICICLE. I'm sure you'll enjoy reading Laura's story as much as I did. If you'd like to learn more about ICICLE, click here. To view Laura's website, click here.
"Thank you very much for your interest in my work!
My passion for weaving started when I was a student at Sevenoaks School in the U.K. I was fortunate enough to have access not only to a range of various manual looms but also to have a wonderful mentor, Lesley Millar, who encouraged and exposed me to the remarkable Japanese Contemporary Textile Artist with whom also she worked. After finishing my International Baccalaureate using my woven fabrics as part of my higher level art projects, I decided to attend Rhode Island School of Design for their distinguished BFA Textiles program.
RISD was in fact founded on their textile program and Providence used to be a hub of mills, with a thriving textile industry. With a long history in textiles, the department has continued to develop and excel by not only maintaining its emphasis on fundamental elementary requirements of textile knowledge: hand spinning, dyeing, knitting, weaving and drawing techniques but also by training and instructing on the latest technologies in the field: digitally printing, industrially knitting, jacquard weaving and now even digital embroidery. As part of the in depth weaving program that takes students from the floor loom to the jacquard, the instruction and experimentation on the AVL dobby looms are an essential link. As part of the curriculum, students learn how to manipulate woven structure in the computer using WeavePoint. It opens up a greater range of possibilities in design than on the floor loom and deepens the students' knowledge and understanding of more complex woven structures. From there the students can more readily take on the challenge of working with Pointcarré, the computer software for the industrial jacquard loom.
As a student I greatly appreciated having access to all of these advanced technologies and I was even more grateful when I was hired to work as a technician in the department upon graduation. Not only did I have continued access to the equipment but I was also trained to fix and maintain a great majority of the machines, which only deepened my understanding of the manufacturing process.
After three years of working as a technician, I missed designing. Not only that but I was also far from home and more importantly from family. My father had been living and working in Shanghai for 3 years and after visiting him on Summer and realizing the vast opportunities in the textile industry in China, I began to look at my options. The textile job market in California (where my brother is located) and in London (where my mother still lives and works) were not nearly as promising.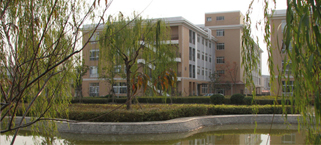 Through my father's connections, I was fortunate enough to be introduced to ICICLE, a high end Chinese Fashion Brand. The quality of fabrics and tailoring were remarkable to me, the emphasis being on quality and professionalism along with a strong ecological philosophy. The ICICLE Brand Concept is in essence "Comfortable, Sustainable, Professional." As a very successful and rapidly expanding company, they have focused on hiring experts in the field in order to advance the quality in their designs and manufacture. The fabric they source is understandably an integral aspect that greatly determines their success. They met with me and having seen my design portfolio and CV/Resume through my website, they realized that I had potential to be a successful textile designer and for their brand.

I now work mainly sourcing basic fabrics for their collections, working alongside the fashion designers to select and coordinate the chosen fabrics for their clothing designs. I do a great amount of trend research as well as sales analysis to help me in this process. I also work using the Ned Graphics design software to create new prints special to ICICLE, to have printed by our suppliers. I also am just starting to embark on some woven textile designs and I will use WeavePoint and our AVL dobby loom to experiment and to sample for these designs. I encouraged ICICLE to purchase the AVL loom and to have it shipped from the states because of my experience using them at RISD. Not only that, when comparing the AVL loom to my other options here in China and abroad, nothing could match the Studio Dobby Loom for ease of use as well as for price. I am very grateful for such a great design tool! "
All the best wishes and kind regards,
Laura
Catch up on the latest!
Don't forget that you can stay in touch and stay informed between eShuttle newsletters by visiting our blog at http://www.avlusa.com/resources/avl-blog/
Recent articles include the results of a sustainability survey conducted by local students on AVL's business practices, recent press releases in the fiber community, and news about recent software upgrades from WeaveMaker and WeavePoint.
**********************************************************************************