eShuttle for April 24, 2013
Apr 24, 2013
What's in this issue?
AVL Spring Sale
AVL Sale coming soon - so stay tuned and make sure you're signed up to receive promotion emails by clicking the Update Preferences link located in any of the eShuttle emails you've received via our new system.
Little Weaver Update
We've completed our field testing and have begun production on the first batch of Little Weavers! Those of you who are patiently waiting for your Little Weaver know that it is better to have a quality product that's late, rather than to rush and miss the mark. Our field testing was a valuable experience and we've made some important improvements because of it.
Shed Size: One of the most common requests for the Little Weaver was to increase the shed size. In our last update, you heard that we had increased the shed size and now we've increased it yet again!
Beater: In addition to the beater being able to stay open without hands, we've added more stability so that you can beat with more precision and less effort, in getting a nice straight fell line.
Packaging: In our last update, we mentioned that we had improved our packaging; now that we've gotten a chance to test it out, here's how. We beefed up our packaging to include double-walled, custom built, cardboard boxes with custom-fitted foam inserts, along with some other packaging restraints to keep your Little Weaver safe on its way to you. We've also sized the packaging and the optional rolling case so that you can use the foam inserts with your loom inside the rolling case too! This gives you added protection and stability while on the go.
Rolling Case: After testing the rolling case, we switched out the shoulder strap for sturdy handles on either side after field testing revealed that the shoulder strap was not practical, and that it was easiest on the weaver to use side handles to temporarily lift your loom into a car or onto a table.
New Jacq3G Video with Sandra Rude
Sandra Rude has graciously collaborated with AVL in making a video demonstration of her Jacq3G Jacquard Loom. We've also added a collection of Jacq3G videos here.
The AVL Warping Wheel for Sectional Warping
Our own Jannie Taylor, in collaboration with Peggy Osterkamp, has created a monograph on using the AVL Warping Wheel. The classic Peggy Osterkamp style line drawings combined with Jannie's usual step-by-step instruction make for a clear and concise set of directions for any Warping Wheel user. In addition to instructions for basic use, several "Tips & Tricks" from Jannie's popular seminar are included. The thirteen page booklet is spiral bound and printed on heavy paper.
To order your "The AVL Warping Wheel for Sectional Warping" monograph, contact Jannie through this form: click here. The cost is $10.00 $2.00 S&H.
Weaving Fun with Legos
At AVL, we're always on the lookout for fun finds and this awesome little loom recently came across our radar. 24 year old French Mechanical Engineer, Nicolas, built this fully automated loom from Legos for the Fana'briques 2012 Exhibition. The loom apparently weaves wrist bands and runs all its operations from one motor. Pictures and video available on his website here.
Weavers in the Spotlight
Linda Kubik
Kate Jantz-Koprivnik brought to our attention that an AVL Loom had made its way into Threads Magazine via an interview with weaver Linda Kubik. In the interview, Linda describes her creative process and talks about the studio that she created in a separate building behind their garage. To read the article and gain access to the full magazine, you can sign up to be a Threads Insider for a membership fee. Click here for the magazine preview.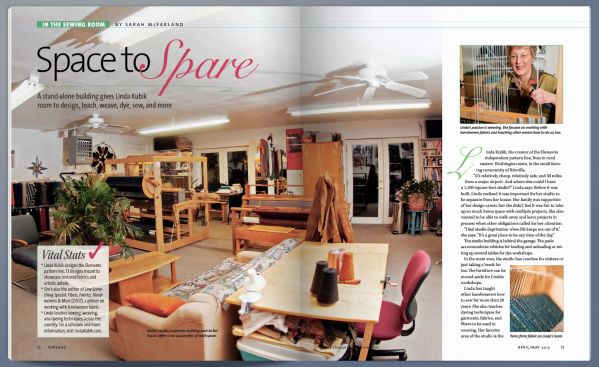 Hiroko Takeda
Hiroko was featured in the New York Times online (click here) for her wildly creative fabrics. Hiroko weaves 3 dimensional art for big names like Calvin Klein Home and Urban Zen. She uses an AVL Workshop Dobby Loom (WDL) for small sampling and experimenting with weave structures. Below is a preview of pieces from her Waffle and Soft Metal collections. You can view more of her work on her website www.hirokotakeda.com.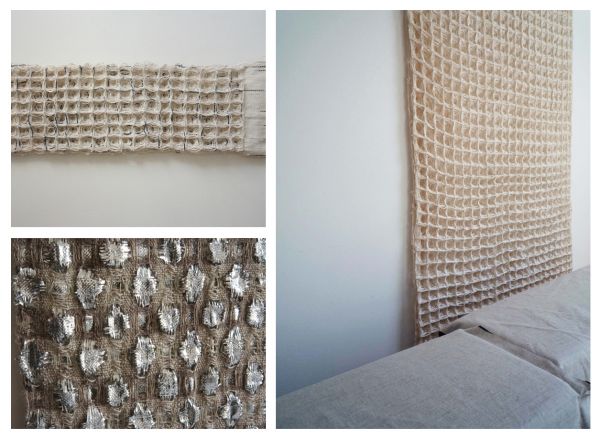 Carol Wooten
We love to see the creations weavers produce using our looms. It's a deeply satisfying feeling to know that you've created a quality tool that artists around the world use to express their creativity. After getting her V-Series Loom set up and dialed in, her first warp was a 20/2 violet Tencel with 20/2 narrow Tencel painted warps inserted for a border. The weft color was Snow Pea, a Bambu 12 yarn from Silk City. The sett was 54 EPI. Her first scarf proved to be a test run, and her second scarf, a point twill, is shown below. She named the piece "A Vision Looming 2" after her new AVL Loom.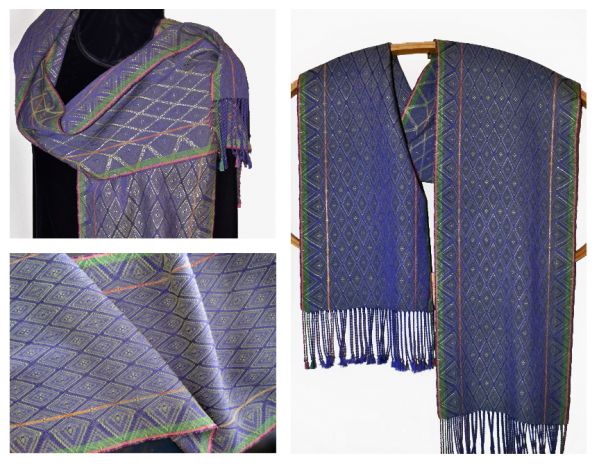 Pam Howard
A while back, we got the following photo and message:
Bob
I think AVL needs to have a contest for the most non weaving "stuff" put on one's loom. Here is my entry......My loom makes me smile! And YES it does make me weave better.
Pam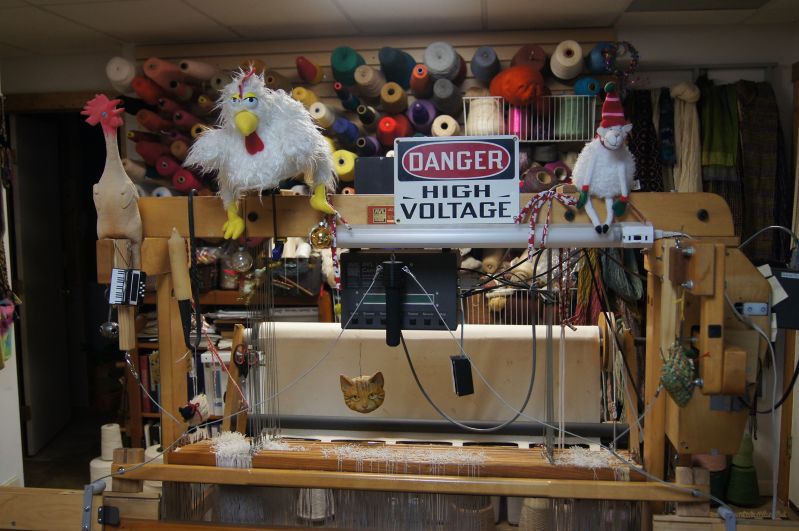 So let the games begin! Who else has decorated their loom? Send us a picture and you could be named the next Loom Decorating Extraordinaire!