Convergence Wrap Up
Aug 02, 2012
Wow! It's been a while since I last blogged and I apologize for my absence. We've had so much going here at AVL that I couldn't get back to it. The good news is that it has given me lots to talk about.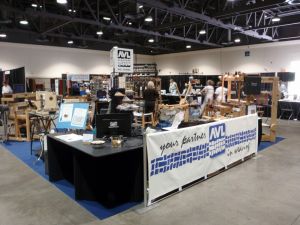 AVL Booth @ Convergence Long Beach 2012
Today, I'd like to talk about the Convergence conference and trade show we recently attended. For the uninitiated, Convergence has been the penultimate conference for handweavers in North America. It often draws many weavers from other continents as well. (Here's a video taken by a visiting weaver in the AVL booth of most of the looms and booth staff.) For AVL, this event is an important opportunity for weavers to weave try out looms, get pointers and see the latest. And we always have something new to show! For 2012, we brought along Little Weaver™ and AVLDRIVE™.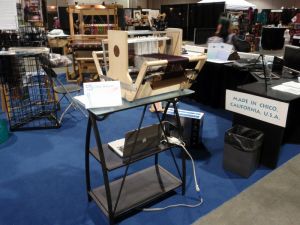 Little Weaver @ Convergence
Little Weaver is AVL's first table loom, but it's not just a table loom. We believe it is the first table loom to allow two handed weaving. You see those other table looms require the weaver to stop, take their hands off beater/shuttle and make harness selections with each pick. This disrupts the weaving, making it painfully slow, so much so that there are droves of weavers who just won't touch a table loom. Little Weaver changes all that by integrating the harness selection and lifting in the beater movement – seems simple, but it's actually pretty revolutionary. We brought our first unit to Convergence, which had recently been in the hands of a weaver for testing. I was pleased with Little Weaver's performance, and we learned a lot from the feedback we received. We will be building #2 in short order and sending it out for testing. Our plan is to go into production in October. If you are interested in being one of the first to get this exciting little guy, contact me. We have a special deal for the early adopters that definitely makes it worth your while.
AVLDRIVE is a new kind of loom control/driver software. Our intent with it is to make it very easy to connect and weave – essentially a one step process. Up to this point, all other weaving software have put upon the weaver cumbersome port identification and processing requirements. We demonstrated AVLDRIVE on Mac and Windows computers, but we'll also soon have it on the iPad. And best of all, AVLDRIVE is free. I am actively seeking weavers for beta testing (requires a Compu-Dobby IV). Contact me if you are interested.
The Little Weaver & AVLDRIVE introductions went great. We had a wonderful response and look forward to turning a lot of those interested into Little Weaver owners in the fall. That said the vendor hall was very poorly attended and as a result, our sales were very poor. The vast majority of the time, it seemed there were far more vendors than attendees. By contrast, Convergence classes & seminars were well attended and positively received. In reflection I think we can blame following for the poor attendance: the separation of Complex Weavers from Convergence, the broad geographical spread of the classes and lack of devoted vendor hall time and the lack of local guild advertising. Complex Weavers is a small subset of the weaving community, but they tend to be very active and vocal…and they are a big part of our market. So, the separation of the two events had an obvious impact. The geographical spread proved to be a big problem because the vendor hall was just too far from many classroom facilities. The only time that was dedicated to the vendors was twilight madness, and we were packed for that brief period. Lastly, we heard from multiple people that their SoCal-based friends didn't' were not even aware that Convergence was in Long Beach! It really showed by the lack of walk-in attendees on Saturday. We were really hopeful for Convergence Long Beach, but it became quite a letdown. I really hope HGA can address these issues come 2014 as it may play strongly in AVL's future attendance.
More pictures from Convergence: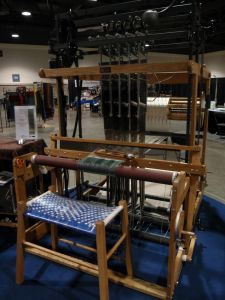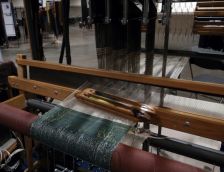 Jacq3G in Action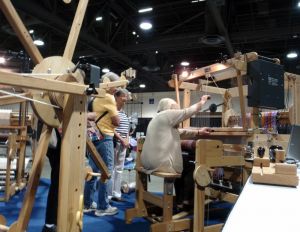 A-Series in Action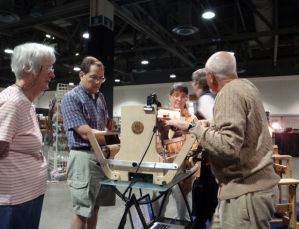 Peter @ Little Weaver Loom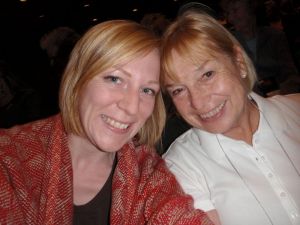 Amanda & Diane @ the Fashion Show
In upcoming blogs, I'll discuss Little Weaver and AVLDRIVE progress, going green and more Convergence videos!