Workshop Dobby Loom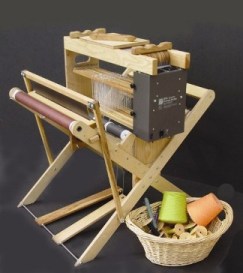 Here is something new and distinctive - a uniquely capable loom fresh from the fertile imaginations of AVL's Chico-based team of textile engineers. With a small size and quick assembly and disassembly, this loom is truly a California Traveler.
Watch the WDL Assembly and Use Videos
The Workshop Dobby Loom (WDL) is AVL's smallest, most transportable, and least expensive computerized dobby floor loom. This dynamite little package is equally at home in your living room or on the road to conferences, seminars, and classes. It also happens to be one of the least expensive and highest value looms on the market.
The WDL comes in two weaving widths: 16-inch and 24-inch, making it perfect for seminar projects, scarves placemats, throws and many other exciting projects. It comes standard with AVL's world class Compu-Dobby IV and can be configured with either 8, 16 or 24 harnesses for amazing pattern versatility. Chose Sectional Warp Beam with 2" sections (extra hoops for 1" sections available) or Plain Beam to suit your warping preference. Contact Us for more information or scroll down to view and purchase one of these looms online!
More Details
At the heart of the WDL is the revolutionary new Interchangeable Design Unit (IDU). The IDU is one of the three major units of the Workshop Dobby Loom. Measuring a mere 25 1/2" W x 25 3/4" H x 9 1/2" D for the 16" WDL, the IDU includes all the major pieces of the loom. It can be placed in a carrying case that weighs just over 30 lbs.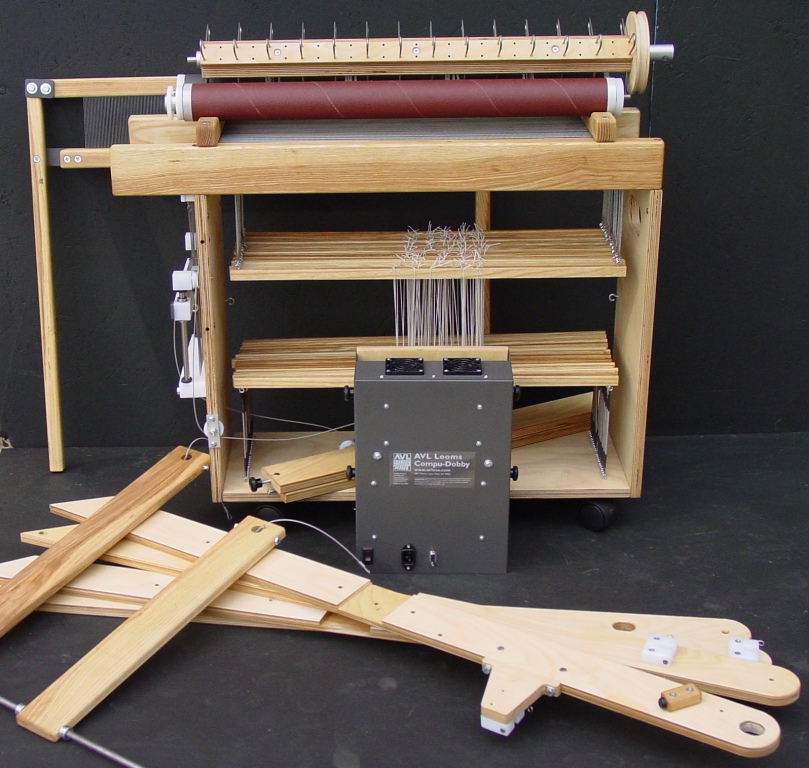 The IDU includes the harnesses, beams, and Compu-Dobby and as its name implies, can be inter-changed with another unit -- with the warp on! Using the WDL's X-Frame base, an IDU can be placed on the base, while another IDU is being warped. The IDU comes standard with wheels mounted for easy transport.
Harnesses use lightweight, solid hardwood harness sticks and are held rigid by a pair of textile industry constant-tension springs that keep the polyester heddles at an even tension. Recently upgraded, these springs provide longer life and minimize harness float.
The front beam is AVL's famous "sticky" beam -- sandpaper that allows the user to start a warp without the use of an apron. And the 24" WDL comes with a separate Cloth Storage Beam. Tension is controlled at the warp beam using a smaller version of the same Automatic Warp Tension System found on WDL's bigger cousins. The WDL is available with either a Sectional Beam or Plain Beam, which is easily upgradeable to a Sectional Beam.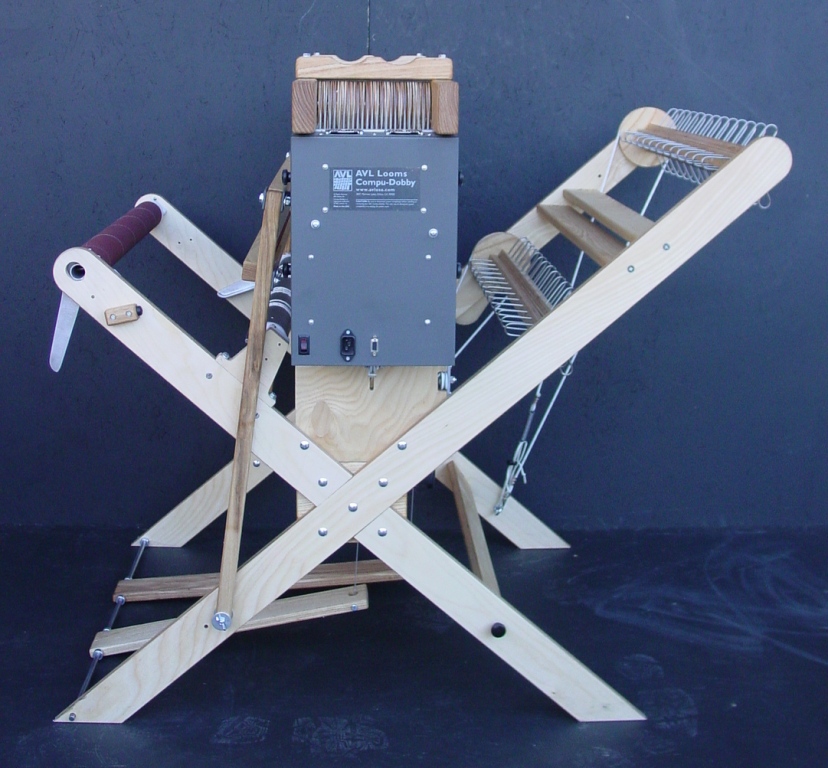 The second major component set, the X-Frame, is a sturdy foundation upon which the IDU can be rested. The Base unit can be assembled or taken down in a matter of minutes.
The third and last piece of the Workshop Dobby Loom is AVL's renouned Compu-Dobby IV. This Compu-Dobby IV is a diminutive version of other members of the AVL Compu-Dobby family. It is sized just right for the WDL.
Like all AVLs, this one can even be had with a double warp beam. This redesigned feature is nearly as compact as the single beam configuration!
Our team has worked hard to achieve the WDL's most dramatic breakthrough - the WDL's price! The WDL has lowered the entry barrier on computerized looms to such a great degree that the complete loom - with Compu-Dobby IV - is available at the lowest price ever offered for a Compu-Dobby loom.
Dimensions
| | | | | |
| --- | --- | --- | --- | --- |
| Weaving Width | 16" (40.6 cm) | 16" (40.6 cm) | 24" (61 cm) | 24" (61 cm) |
| Harnesses | 24* | 24* | 24* | 24* |
| Warp Beams | 1 | 2 | 1 | 2 |
| Height | 43 1/2" (110.5 cm) | 43 1/2" (110.5 cm) | 43 1/2" (110.5 cm) | 43 1/2" (110.5 cm) |
| Width | 30 1/2" (77.5 cm) | 30 1/2" (77.5 cm) | 35 1/2" (90.2 cm) | 35 1/2" (90.2 cm) |
| Depth | 39" (99.1 cm) | 46" (116.8 cm) | 39" (99.1 cm) | 46" (116.8 cm) |
| Weight | 47 lbs. (22 kg) | 53 lbs. (24 kg) | 77 lbs. (35 kg) | 83 lbs. (38 kg) |
| Heddles | 25 per Harness | 25 per Harness | 25 per Harness | 25 per Harness |
*Having fewer than 24 harnesses affects weight only. To calculate the weight for a loom with fewer harnesses, subtract 0.3 lbs. (136g) per harness for the 16" WDL and 0.35 lbs. (159g) per harness for the 24"WDL. For example a 16" 8 harness 1-Beam WDL would weigh 42 lbs. (19kg).
Standard Equipment
16" WDL
24" WDL
8, 16, or 24 harnesses
8, 16, or 24 harnesses
Compu-Dobby IV
Compu-Dobby IV
Bottom swing beater
Bottom swing beater w/Race
Sticky Cloth Beam
Sticky Cloth Beam
cloth storage on Cloth Beam
Separate Cloth Storage Beam

Sectional Warp Beam

with 2" sections

(extra hoops for 1" sections available) or Plain Beam <<Your Choice>>

Sectional Warp Beam with 2" sections (extra hoops for 1" sections available) or Plain Beam <<Your Choice>>

Auto Warp Tensioning
Auto Warp Tensioning
Shuttle Rest
Shuttle Rest
Hardwood construction
Hardwood construction
Easy-to-assemble hardware
Easy-to-assemble hardware
Printed instruction manual
Printed instruction manual
Instructional CD-ROM
CD-ROM not available at this time
AVL's Two-Year Warranty
AVL's Two-Year Warranty